Deadline: January 23rd, 2019 at 11:59 PM PST.
OVERVIEW
The American Society of Landscape Architects is currently accepting proposals for the 2019 Conference on Landscape Architecture in San Diego, November 15 - 18, 2019.
The goal of the conference education program is to provide professional development opportunities which address the diversity of practice types and cross sector collaborations most relevant to the practice of landscape architecture today.
SESSION FORMATS
SUBMISSION PROCESS
Please read the submission guide for the session type for which you plan to submit.
The presentation submission and review process is managed through an online system, Abstract ScoreCard. ASLA members should entire their unique ASLA IDs and passwords below. If you forgot your password, please visit: https://my.asla.org/password. Non-ASLA members should click "Begin Now" to get started.
Upon submission, the submitter will receive an email confirmation.
SUBMISSION AND SPEAKER CONSIDERATIONS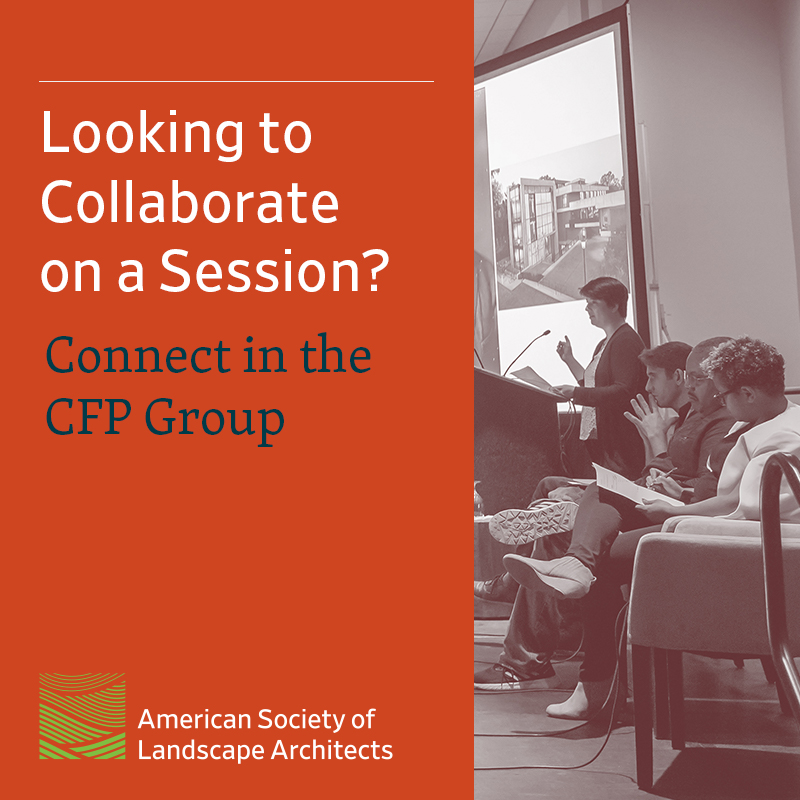 To coordinate proposals and network with potential speakers, we encourage you to use the CFP Google Group.
Please limit the number of submissions to three per submitter.
Speakers will be asked to verify that they were submitted on no more than three sessions.
Landscape architecture professionals (graduates of accredited landscape architecture programs) wishing to present at the Conference on Landscape Architecture need to be active members of ASLA.
Allied professionals are encouraged to both submit presentations and speak but are not required to be members of ASLA.
Education session speakers selected from this process will receive a full complimentary registration to the Conference on Landscape Architecture and may also be eligible for reimbursement for one night's hotel stay at an official ASLA hotel (estimated $750 value).
SUBMISSION REVIEW CRITERIA
The selection process for the Conference on Landscape Architecture Education Program is competitive. Only 1 in 4 presentations will be selected. The ASLA Annual Meeting Education Advisory Committee (AMEAC) reviews, evaluates, and scores submissions using the following criteria:
Relevance to the profession of landscape architecture
Clearly stated and achievable learning outcomes
Timeliness of the topic
Subject matter appeal
Appropriate audience type and expertise level (intermediate, advanced)
Speaker qualifications
Panel equity, diversity, and inclusion
TIMELINE
| | |
| --- | --- |
| December 11, 2018 | Call for Presentations Opens |
| January 23, 2019 | Deadline for submitting proposals (11:59 PM PST) |
| February 2019 | ASLA Annual Meeting Education Advisory Committee (AMEAC) evaluates proposals and makes recommendations |
| March 20-31, 2019 | Selection notifications sent to proposers |
| November 15-18, 2019 | ASLA Conference on Landscape Architecture |