Deadline: January 23rd, 2020 at 11:59 PM PT.
OVERVIEW
The American Society of Landscape Architects is currently accepting proposals for the 2020 Conference on Landscape Architecture in Miami, October 2-5.
The ASLA Conference on Landscape Architecture is the largest gathering of landscape architects and allied professionals in the world—all coming together to learn, celebrate, build relationships, and strengthen the bonds of our incredibly varied professional community. We are seeking education proposals that will help to drive change in the field of landscape architecture and solve everyday challenges, informed by research and practice.
SESSION FORMATS
60- or 75-Minute Education Session: The standard education session with 50/60 minutes of presentation followed by 10/15 minutes of Q&A, maximum three speakers.
Deep Dive Session: Engaging, in-depth programs that explore specific landscape architecture topics, maximum five speakers. Deep dives are interactive sessions that can include lectures, hands-on learning, facilitated discussions and other creative audience engagement tools.
Field Session: Multiple speakers offer education combined with a field experience. Field sessions are organized through the host chapter. Please contact the host chapter committee leaders at fieldsessions@aslaflorida.org.

SUBMISSION PROCESS
Please read the submission guide for the session type for which you plan to submit (linked under session formats).
The presentation submission and review process is managed through an online system, Abstract ScoreCard. ASLA members and returning users should use their unique ASLA IDs and passwords below. If you forgot your password, please visit: https://my.asla.org/password. Non-ASLA members should click "Begin Now" to get started.
Please login to the Abstract ScoreCard early. Your account will lock after three incorrect password submissions. If this happens, please contact Membership at membership@asla.org directly to reset.
Upon submission, the submitter will receive an email confirmation.
SUBMISSION GUIDELINES
Please limit the number of submissions to three per submitter.
Speakers will be asked to verify that they were submitted on no more than three sessions.
Landscape architecture professionals (graduates of a landscape architecture program recognized by ASLA) wishing to present at the Conference on Landscape Architecture need to be active members of ASLA.
Education session speakers selected from this process will receive a full complimentary registration to the Conference on Landscape Architecture.
Allied professionals are encouraged to both submit presentations and speak but are not required to be members of ASLA.
SPEAKER RESOURCES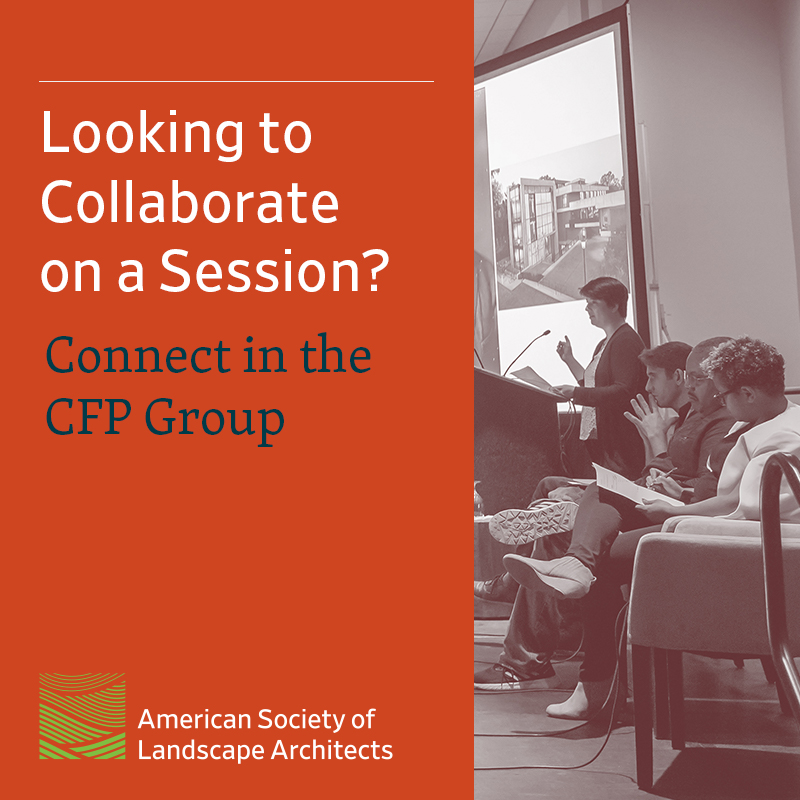 SUBMISSION REVIEW CRITERIA
The selection process for the Conference on Landscape Architecture Education Program is competitive. Only 1 in 4 presentations will be selected. The ASLA Annual Conference Education Advisory Committee (ACEAC) reviews, evaluates, and scores submissions using the following criteria:
Relevance to the profession of landscape architecture
Clearly stated and achievable learning outcomes
Timeliness of the topic
Subject matter appeal
Appropriate audience type and expertise level (intermediate, advanced)
Speaker qualifications
Panel equity, diversity, and inclusion
TIMELINE
| | |
| --- | --- |
| December 10, 2019 | Call for Presentations Opens |
| January 23, 2020 | Deadline for submitting proposals (11:59 PM PST) |
| February 2020 | ASLA Annual Conference Education Advisory Committee (ACEAC) evaluates proposals and makes recommendations |
| March 20-31, 2020 | Selection notifications sent to proposers |
| October 2-5, 2020 | ASLA Conference on Landscape Architecture |
Login to the Abstract ScoreCard
ASLA Members and Returning Users